It shouldn't be a secret that brake repair is one of the most common, and most important, services made on a vehicle. Regular inspection and maintenance is crucial for you and your passengers safety and should never be ignored or put off. Auto brake systems have made advancements in technology over the years, but the importance of properly maintaining and repairing your brakes has remained the same.
You don't have to be a do it-yourself-er or an expert in car repairs or brakes to recognize the warning signs of worn brakes or braking systems that need attention. When your vehicle starts making odd noises, or smells or feels differently when you drive, you need to investigate the issue sooner rather than later. Waiting too long can cause damage to other parts of your brake system which can lead to more expensive repairs.
Some of the most common sounds that a driver will hear are squealing, grinding or a scraping noise. Anytime your car or truck creates unusual noises, it is cause for concern. Just because you hear some of these sounds does not always mean you have a serious brake repair in your future. It could just be an accumulation of debris on the brake pad, but sometimes could be indicative of other brake issues. If the noise is heard in combination with a vibration or 'shake' of your brake pedal and/or steering wheel and you wait too long to inspect the problem, your rotors could become warped, costing you more to correct.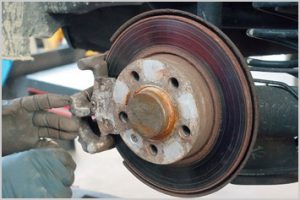 Whether you are new to car maintenance or a veteran weekend warrior at auto repair, our service team is available to help guide you through the brake repair or replacement process. We are happy to answer questions or schedule a time for a technician to check your brakes.
You don't have to purchase your vehicle from Drive Appeal in order to service your vehicle with us. If you need brake rotors, calipers, pads, fluid, or just a check-up, please call our Service department at 763-233-0474 or click below to set up an appointment.